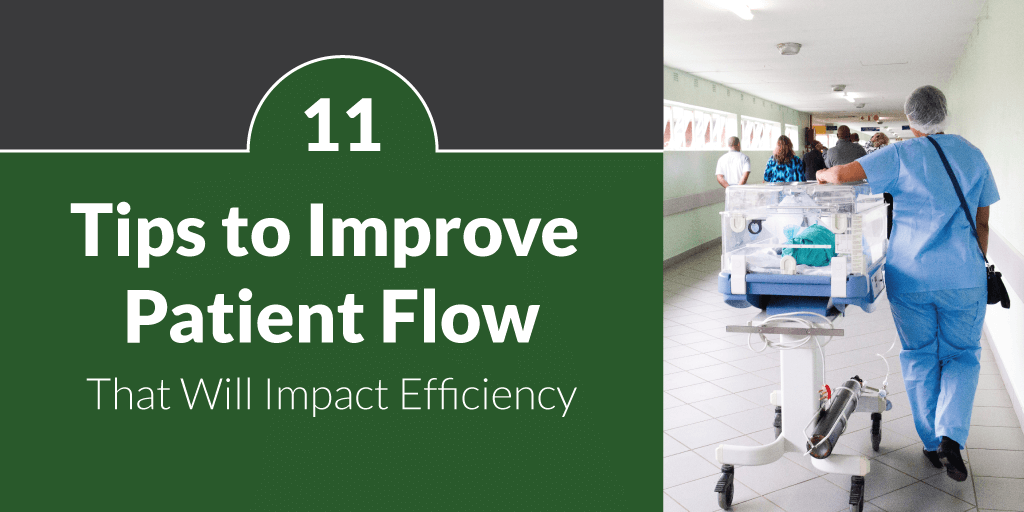 Efficient patient flow will increase your healthcare facilities revenue and more importantly keep your patients satisfied and safer.
Failing to achieve the right care, at the right time, puts your facility at an operational efficiency deficit. Which in turn places your patients at risk for less than optimum care and potential harm.
"Achieving hospital-wide patient flow, and ultimately improving outcomes and the experience of care for patients, requires an appreciation of the hospital as an interconnected, interdependent system of care. It also requires strong leadership; in fact, the role of executive leaders is critical for success." [Source: Rutherford PA, Provost LP, Kotagal UR, Luther K, Anderson A. Achieving Hospital-wide Patient Flow. IHI White Paper. Cambridge, Massachusetts: Institute for Healthcare Improvement; 2017. (Available at www.ihi.org)
If you're convinced that improved hospital-wide patient flow is good for operational efficiency, make sure to include these 11 guidelines for ensuring better patient flow.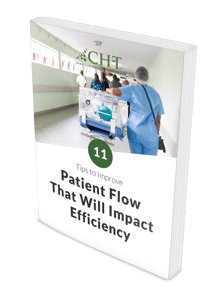 11 Tips to Improve Patient Flow
Tip #1: Align Reporting With Your Department Heads
When you create a consistent reporting framework between your department heads, with your patients in mind, patient flow will become optimized.
As in many healthcare facilities, care is given from one department to the next. This could be from admissions, radiology, surgery and more. As a patient moves from one area to the next, it's imperative all activities are documented from each department.
Clinicians can become frustrated when they have no control or insight of the actions taken outside of their immediate department.
Tip #2: Create a Culture of Accountability
Hospital culture can impact patient care. Its values, mission and practices must be consistent with all employees. Data reflects there is an interrelationship between safety culture and patient safety improvement.
Based on a study conducted from Lesley Curry and colleagues, it was concluded that hospital culture may be positively influenced and that investing in strategies to foster cultures that are supportive of high performance may help hospitals in their efforts to significantly improve clinical outcomes.
Further findings showed a direct correlation between hospital culture and the impact on the work of clinical teams and departments. [source: Curry LA, Brault MA, Linnander EL, et al. Influencing organizational culture to improve hospital performance in care of patients with acute myocardial infarction: a mixed-methods intervention study]
Tip #3: G

ain Executive Support for Improving Patient Flow
Keeping in line with the findings above, the approach taken by senior managers and leaders does appear to matter.
It can potentially add to the risk of harm when departments heads are not supportive of staff and hospital culture.
FierceHealthcare wrote an article on: 5 Ways CEOs can Actually Change Hospital Culture.
In summary...
CEOs will set clear direction
They will treat people as their best resource
Make their employees feel safe - which will build trust
Challenge their employees and problem solve. Talk about issues that will be critical to the success of their organization
Always question the status quo to help their facility grow
Tip #4: Explore Different Staffing Models
Jennifer Mensik, PhD, RN, NEA-BC, FACHE, former administrator for nursing and patient care at St. Luke's Health System in Idaho, states "nurse leaders can, to some degree, control the flow of patients and staff accordingly, if they harness unit-level data to find trends and identify how they change staffing and routines to accommodate those trends."
She explains to no longer think of staffing as static. Think in terms of how you can plan better given the knowledge at hand with data.
Match capacity and demand.
When your organization know its capacity constraints and demand patterns it can make changes to align with demand. When both are matched, delays in care can be reduced. For example examine average and peak daily emergency department admissions.
"Examining historical data on average and peak daily emergency department (ED) admissions helps predict the demand and allows for planning for the capacity needed to meet the demand. Predictions can be used to make system adjustments to meet the conditions." [source: Institute for Healthcare Improvement]
Tip #5: Use Technology to Improve Patient Care and Safety
Patient flow is attainable when healthcare facilities have the right tools for collaboration and measurement.
Care Command Center gives healthcare institutions a needed operational tool. It easily "integrates with your existing systems to facilitate a collaborative environment focused on efficiency, experience and quality. Care Command Center gives everyone in the care continuum the information they need to orient and act."
The high visibility with clinician-facing boards allows staff and patients real-time awareness with a HIPAA compliant waiting room whiteboard.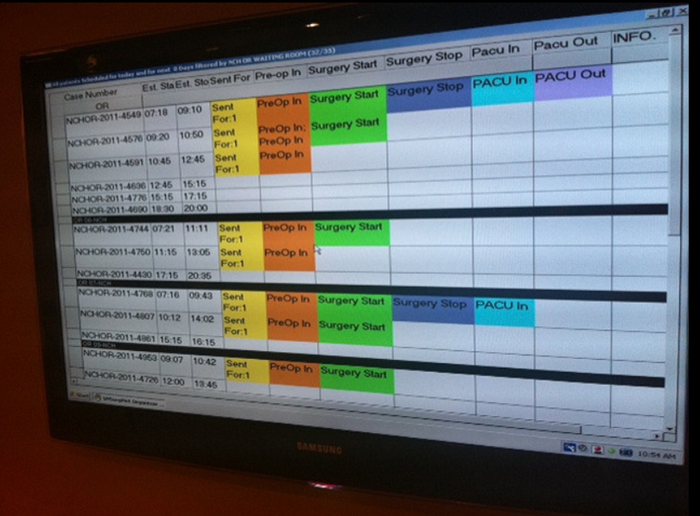 "Patient surgery-tracker screen in waiting room" by Amy Guth is licensed under CC BY 2.0
Tip #6: Instill the "Patient Flow Standard" and the 4 Hour Recommendation
The "patient flow standard" (Standard LD.04.03.11) was published by the Joint Commission to help healthcare facilities manage its flow of patients throughout the hospital.
The 4-hour time frame referenced in the Standard is a guideline for hospitals to use as a reasonable goal in its boarding time - the time when a patient is held in the emergency department to the time they are admitted or transferred.
Hospitals measure and set goals for patient flow based on:
availability of patient beds
the throughput of areas where patients receive care treatment, and services (such as inpatient units, laboratory, and radiology)
The safety of areas where patients receive care, treatment and services
The efficiency of the non-clinical services that support patient care and treatment (such as housekeeping and transportation)
Access to support services (such as case management and social work)
Hospital Accreditation Program. (2011) In Jointcommission.org/assets Retrieved from https://www.jointcommission.org/assets/1/6/Field_Review_20111201_EDO_HAP.pdf
Using data will help hospitals manage any issues that could affect its emergency department, i.e. patient boarding, which can lead to patient harm and quality of care.
Tip #7: Provide an Automated Bed Board Tool
University of Utah Hospitals & Clinics was "experiencing long patient wait times prior to admission and patients being held in the ED or PACU for extended periods prior to admission." They wanted to improve the patient experience and remove inefficiencies.
Teletracking helped to improve the access to quality care. The bed board process was manual. They assisted UUHC by providing as automated tool as a way to revise their patient flow system. This helped with customer and employee satisfaction and discharge rate. The system created transparency in bed availability, status of discharges or transfers, and incoming patients.
Modern Healthcare, a leader in healthcare business news, research & data moderated a webinar on the benefits and steps to improve UUHC's patient flow. The full discussion on automating patient flow consisted of the challenges they were facing and the results that followed.
Tip #8: Train Staff on Time Management
One of the most effective skills to have for healthcare professionals is time management. Understanding how to plan and control your time spent on daily tasks is crucial to patient safety.
Here are a few tips on time management you can implement today.
6 Time Management Tips for Healthcare Professionals
establish goals
prioritize
take advantage of technology
use electronic health records
delegate
know when to say no
Time Management Tips for Busy Hospital Executives
sharpen your communication skills
target your time for essential responsibilities
empower your colleagues
Important Time Management Tips for Nurses
plan a schedule in advance
try and minimize distractions as much as possible.
stay organized
Tip #9: Invest in Mobile Technology
"90% of hospitals surveyed have made or are planning significant investments in Smartphones and secure unified communications platforms." Megan Knowles, Becker's Hospital Review - Survey: 90% of hospitals investing in smartphones for clinical communication
"The survey found nearly half (48 percent) of hospitals have identified or were identifying return on investment models to justify mobile investments demonstrate cost reductions, outcome improvements and staff/patient satisfaction."
Tablets can also be used for a better patient experience. Paperwork could be eliminated which will expedite the process.
According to a release from Spyglass Consulting Group platforms are providing:
cross platform support
unified communications
event-driven communications
analytics and reporting tools
Tip #10: Tying Maintenance and Operations to the Patient Experience
Patient satisfaction is a top priority for health care facilities.
According to Dude Solutions, "The maintenance department influences your patient experience, and how you can create a better experience for everyone with awareness and the right tools."
Communicate more effectively between your departments - from maintenance, housekeeping and more. A patients' experience and satisfaction can depend largely on a task from the maintenance department. Think lighting, doors or broken equipment.
Balancing your workflow will ultimately help your patient flow.
Tip #11: Utilize Advanced Data Analytics
A big data trend in the marketplace is the increased use of analytics to advance patient safety. Valuable insights in real time can impact patient care and safety.
In our last article, we included an infographic on, 7 Big Data Healthcare Trends.
Big Data works on the principle that the more you know about something or event, the more you can gain new insights and make predictions about what will happen in the future.
This theory can also be applied to the ability to forecast trends in your healthcare facility. "Neural Networks are a predictive technique that can recognize and learn patterns in data".
Advanced analytics will provide better coordination of care, customer service and operations.
The Joint Commission Standards for Accredited Hospitals
The Joint Commission addresses the issue of patient flow in a standard all Joint Commission-accredited hospitals must comply with. The new patient flow standard requires hospitals to:
Create a process that supports the flow of patients through the hospital

A

ddress the hospital's need to plan and care for the patients who are admitted and whose bed is not ready or unavailable.

Address the need for the hospital to plan the care for patients who are placed in an overflow location

Formalize how ambulance diversion decisions are made and implemented

Requires the hospital to measure and set goals

Manage patient "boarding" and work to reduce the length of time that ED patients are boarded.

Review the measurement results against stated goals

Take action to improve patient flow when goals are not achieved

Communicate with behavioral health providers to strengthen the coordination of care.
Conclusion
Patient flow is the moving of patients within your healthcare facility. Optimizing patient flow is critical for healthcare facilities for two main reasons - patient safety and quality of care.
With technology, hospital leaders are able to generate the statistics administrators desire in real-time. CHT can improve your healthcare facility's cost, productivity and inspection success with their many medical gas services.
Medical gas testing, software and inspection will provide you with a safe, cost-efficient hospital.