---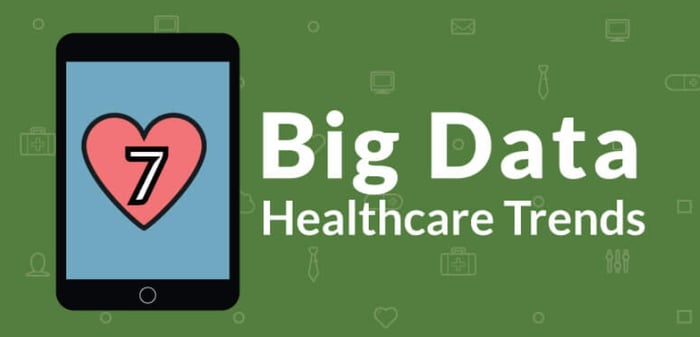 Improved technology will play a pivotal role in the collection and analysis of big data for healthcare facilities. Healthcare providers will have access to large data sets to help improve their patients' overall well being.
What can these large amounts of data actually do?
In terms of healthcare, it could range from improved electronic medical records, enhance quality of life, better patient care and experience, to predicting specific epidemics.
Even though there are many challenges with "big data", it is still fueling the industry's trends.
"By leveraging big data and scientific advancements while maintaining the important doctor-patient bond, we believe we can create a health system that will go beyond curing disease after the fact to preventing disease before it strikes by focusing on health and wellness," writes Lloyd B. Minor, MD, Dean of the Stanford University School of Medicine, in a whitepaper exploring the big data revolution.

Like the infographic? Share it:
7 Ways Big Data Analytics Will Drive Healthcare Forward
1.

Healthcare Internet of Things (IoT) Will Improve Patient's Health

"All wearable technology, which includes smart watches, fitness trackers, VR headsets and more, generates a ton of data that businesses are just beginning to understand the possibilities and potential applications for."

Businesses who learn to harness the data created by the Internet of Things are the ones who will survive and thrive in the future. The volume of information generated from smart devices will help companies learn where they need improvement and innovation.

loT can improve a patient's health. Hit Consultant actually outlined, 6 reasons Why Healthcare Needs the Internet of Things.

Think of it this way...

"What if the wearable device connected to a patient tells you when his heart-rate is going haywire or if he has lagged behind in taking good care of himself and shared that information on other devices that you used while working? By updating personal health data of patients on the cloud and eliminating the need to feed it into the EMRs, IoT ensures that every tiny detail is taken into consideration to make the most advantageous decisions for patients. Moreover, it can be used as a medical adherence and home monitoring tool."

A report published by Allied Market Research predicts that the IoT healthcare market will reach $136.8 billion worldwide by 2021.
2. Increased Focus on Patient-Centric Care
According to MapR: "Health payors such as insurers and public health systems (e.g., Medicare and Medicaid) are in the early stages of shifting from fee-for-service compensation to value-based data-driven incentives that reward high quality, cost-effective patient care and demonstrate meaningful use of electronic health records.
This approach requires significant improvements in reporting, claims processing, data management, and process automation."
Dr. Bill Knowles, Senior Director of Client Engagement at Health Catalyst agrees, "No combination of methods, tools, and techniques is complete without the essential principle of a patient-centric focus throughout. This focus empowers the healthcare professional to leverage available resources in a manner best suited for each patient's well-being, including bridging cultural and language barriers that can impede outstanding treatment to meet the patient's needs."
3. Predictive Analytics Reduces Fraud Waste and Abuse
The Centers for Medicare and Medicaid Services prevented more than $210.7 million in healthcare fraud 
in one year using predictive analytics.
Four types of predictive analytic models are being used to detect fraud, according to a CMS 2014 status update:
rules-based - the model will red flag automatic charges that are suspicious. For example, if a charge originated from an account that was compromised. (stolen identity)
anomaly - suspicion is raised based on factors that seem improbable. (one too many procedures reported on a given day)
predictive - the models compare charges against other fraud profiles.
social networking - if specific providers work with known fraudulent providers they will more than likely get flagged in the system. (based on the provider's known associations)
4. Big Data Healthcare Trends Provide Patient Safety and Quality of Care
Big data technologies are understood to be capable of the Four Vs: processing massive amounts of data (volume) from an integrated pool of multiple databases (variety) and ingesting and returning analytic computations at high speed (velocity) and with high precision (veracity). [source]
Understanding and identifying potential issues before they become a problem by interacting with information in real-time can impact patient care and safety. Decisions can become more precise and predictive which will enhance quality of care.
Patient safety and quality care are at the forefront in many healthcare environments. Any information learned through data collection will proactively help with patient safety issues.
"Health data is allowing doctors to build better patient profiles and predictive models to more effectively anticipate, diagnose and treat disease."
In the Stanford Medicine Health Trends Report, Harnessing the Power of Data in Health, Minor discusses that experts foresee a loop of data generation with two potential outcomes.
1. "A closed loop process is already taking place today, in which information passes through a two-way channel between the patient and the company capturing the data. This system gives the patient information about their health while simultaneously affording the company data to analyze.
2. In the future, experts aspire to an open loop system that allows the data generated to feed directly into medical research and fuel new discoveries. With the potential to replace many studies typically conducted in labs, big data will be positioned to revolutionize the process of medical research as we know it."
Personalized medicine will eventually be tailored to a patient's genetic makeup. Some analysts estimate the "current of size of the personalized medicine market to be at $1 billion, with expectations that it will reach more than $2 billion by 2022."
5. Increase Awareness: Right for the Patient and Right for the Healthcare Ecosystem
Big data is changing the balance of healthcare cost and patient outcomes. A report written by McKinsey & Company explains the big data revolution in healthcare is accelerating value and innovation.
Right living - Informed lifestyle choices that promote well-being. Patients take an active role in their own treatment.
Right care - All care givers have the same information. "Evidence based care that is proven to deliver needed outcomes for each patient".
Right provider - The right match of provider skill set to the complexity of the assignment.
Right value - Reducing cost while preserving or improving quality of care.
Right innovation - Innovation to advance medicine and boost research and development.
6. Big Data Will Help Reduce Healthcare Cost
There is great potential to cut cost with big data in healthcare. And the industry is in need due to the rising costs.
As a McKinsey & Company report states, "After more than 20 years of steady increases, healthcare expenses now represent 17.6 percent of GDP — nearly $600 billion more than the expected benchmark for a nation of the United States' size and wealth."
A Forbes article details how Paris hospitals are forecasting admission rates with Big Data. "At four of the hospitals which make up the Assistance Publique-Hôpitaux de Paris (AP-HP), data from internal and external sources – including 10 years' worth of hospital admissions records has been crunched to come up with day and hour-level predictions of the number of patients expected through the doors."
7. Tapping Big Data for Real Time Infection Control
Big data will predict where outbreaks of potentially epidemic viruses such as the flu are most likely to appear.
Another eye opener for the use of Big Data ...
HealthTech shared the fact that sepsis - a harmful bacteria and toxins in the tissues — is a major issue in the U.S. health system, killing one person every two minutes and accounting for nearly $24 billion in annual healthcare costs, according to the most recent study by the Sepsis Alliance.
"Several health systems are piloting real-time analytics platforms that can sift out early warning signs of infections such as sepsis. The data analytics pilots "determine which central lines are due for maintenance, or identify patients that are at risk for sepsis by using 'sniffer' algorithms to assign risk scores".
Thomas Heymann, Executive Director of Sepsis Alliance said. "Sepsis is the most expensive condition to treat in our healthcare system, and it's only getting more costly. No matter what side of the political aisle you're on, it's dramatic to see how raising sepsis awareness and improving patient outcomes could have a profoundly positive impact on our national healthcare system, our economy, and our nation as a whole."
Conclusion
Shifting to an integrated data environment is a daunting task. Big Data works on the principle that the more you know about something or event, the more you can gain new insights and make predictions about what will happen in the future.
The big data healthcare market is poised to grow exponentially. Technological advancements and innovations will help further the development of the market.
CHT can provide innovative technology to help healthcare facilities start to control and manage their medical gas systems. This in turn will manage all your healthcare compliance.