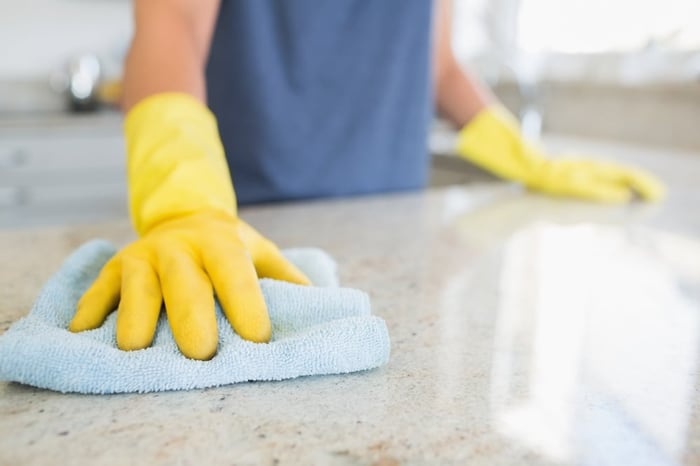 Never before has the importance of hospital environmental services been more respected and promoted.
While hospitals perpetually strive to provide a clean safe environment for their patients, staff and visitors, the fight against aggressive pathogens has become more challenging.
Environmental Services are the first line of defense against these assaults.
Environmental Services on the Rise With Good Reason
The ensuing rise of Environmental Services (ES) in importance and prestige has several promoters:
1. Antibiotic resistant infections are more common than ever.
Historically, doctors could prescribe various antibiotics and kill most bacterial infections wherever they were acquired. In part, because of antibiotic overuse and the concentration of these pathogens in hospital rooms and procedure areas the pathogens have developed an immunity to the medicine and become more virulent.
ES and room pressures are the easiest, cheapest prevention method available. It is always easier to block an infection than cure it. Though few people get credit for an accident that did not happen.
2. The application by CMS of the HCAHPS (the Hospital Consumer Assessment of Healthcare Providers and Systems) is a patient satisfaction survey required by the Centers for Medicare and Medicaid Services for all hospitals in the United States.
The Survey is for adult inpatients, excluding psychiatric patients. One of the key measurements of patient satisfaction is the cleanliness off the accommodations at the hospital, so in essence, every patient visiting the hospital gets to grade the cleaning of the facility for the biggest payer of medical bills.
3. A third factor is the improved technology and techniques in the program to reduce or eliminate Hospital Associated Infections (formerly called Hospital Acquired infections) HAI's.
The term nosocomial infection is now also being used. Modern technology has shown that even minute traces of bacteria, virus and fungi spores can be transferred by touch to infect patients; particularly patients with compromised immune systems.
4. The array of patients, visitors and their infections has greatly expanded.
Not only are there more people in the hospital, but more kinds of people from various places around the world and they all bring their own personal set of pathogens with them. The Ebola crisis of a few years ago is a prime example.
For these reasons, the importance of providing the best possible care for patients has put ES in the spotlight. Today most ES departments require trained and in some cases certified workers to keep the hospital clean and as disease free as possible.
The Association for the Healthcare Environment (AHE) of the American Hospital Association offers a "comprehensive training and certification program professionally designed and weighted to address the essential and evolving job tasks and requisite skills and knowledge of healthcare environmental services technicians."
Environmental Control, Decontamination and Cleaning
In order to be victorious in this battle in a world full of microbes, sick people and a stream of visitors that bring their own set of pollutants, several new attacks have been developed.
The most obvious is...
More and better cleaning regimens with stronger cleaners and sterilants to eliminate the presence of pathogens with the regular cleaning process.
One of the challenges in most hospitals is room turnaround time. That is the length of time it takes to clean out a patient room, sanitize everything in the room and prepare it for the next patient.
Historically this has put pressure on the ES staff to turn the room around as quickly as possible which invited shortcuts and less supervision. With today's knowledge, administrators have taken an in depth look at patient experience and the cost of treating unreimbursed services in addition to expediting the flow of patients through the facility.
Most cleaners are water based and even if ten workers could attack one room the time needed for the cleaning solutions to sterilize and then evaporate would still be a determining factor. A typical cleaning requires that every horizontal surface, railing, handle or switch a patient would touch gets wiped and sterilized including the floor and the bathroom.
An initiative led by the VHA reduced methicillin-resistant Staphylococcus aureus (MRSA) infections by 89 percent over four years at the 120-bed W.G. Hefner VA Medical Center's Community Living Center (CLC) in Salisbury, N.C.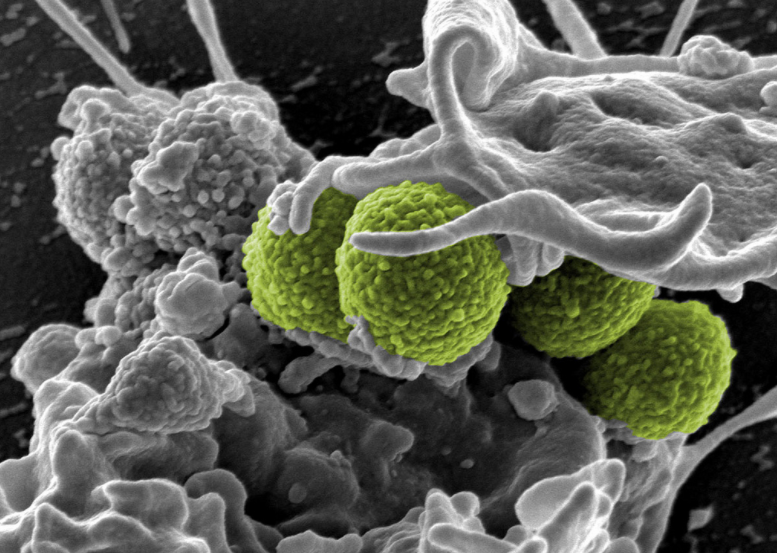 Interaction of MRSA (green bacteria) with a human white cell. The bacteria shown is strain MRSA252, a leading cause of hospital-associated infections in the United States and United Kingdom. Credit: NIAID
According to Lanette Hughes, R.N., infection preventionist at the CLC, active surveillance and decolonization combined with a strict environmental services (ES) regimen contributed to the reduction.
Next Generation UV-C Disinfection System
More and more, traditional soaps and biological based cleaners are being supplemented by sodium hypochlorite (bleach) and hydrogen peroxide based sterilants that physically attack and destroy pathogens.
Some hospitals are adding high dose UV portable lighting systems to sanitize the room to supplement the workers. Surfacide systems are "smart and able to "see" every exposed surface, providing confidence that diinfecting energy has been delivered efficiently". The UV is very effective at killing the bad stuff, but it requires the room to be absolutely vacant for 15 minutes or more while the light system is in use. Then the UV system must be moved to the next site this can add to the turnaround time.
In addition to what happens in the room, the hallways, nursing stations and meeting rooms likewise have to be sterilized and you will notice that most rooms have glove and hand sanitizer stations either in the room or at the doorway to eliminate any pathogens from outside the room.
Studies have shown the most common route of infection is from the touching of one patient or patient's room to the next patient. Proper use of alcohol based hand sanitizer containing disinfectants like Chlorhexidine gluconate or parachlorometaxylenol have proven to be as effective as washing hands for 2 minutes with soap and water.
Personal Protective Equipment starting with gloves is the most obvious and easiest way to reduce transmission of any infectious material from patient to patient or from equipment to patient. ES personal must wear gloves to protect their hands from the cleaning chemicals and then discard them when they go to the next room or task.
Likewise, clinicians need to start each entry and exit with a glove change. Since virtually every treatment or equipment adjustment means the staff's hands are touching something the patient will come in contact with, the one time use of gloves is paramount.
Equipment moved from one room or setting to another will likely bring the pathogens from the previous setting into the current one. ES should be alerted to such events and as soon as possible go over the mobile equipment including power, connecting cords and tubing.
Environmental Services Upped Their Game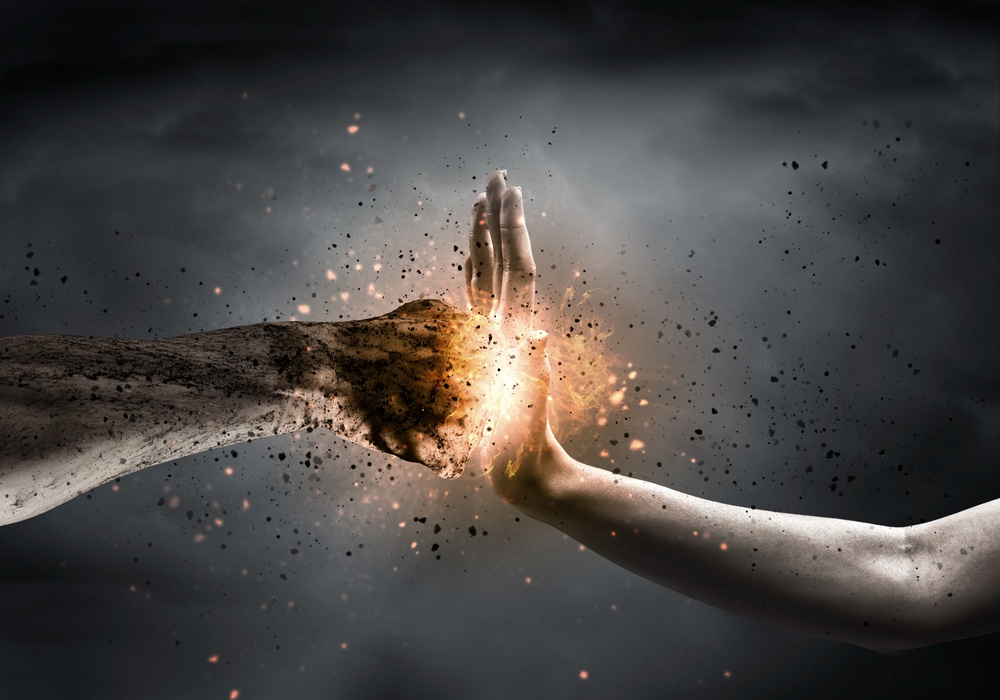 ES and surgical staff have upped their game to attack the plethora of pathogens in the hospital when cleaning instruments and procedure areas like operating rooms. Newer chemical solutions are being used and as well as extra inspection techniques to make sure every instrument is pristine for its next use.
Many of the small instruments that contact the patient are disposable to eliminate any possibility of infection being passed. In some cases, the liability and the cost of sterilizing is greater than the cost of the new disposable instrument. Many of the devices in procedure areas are cleaned and covered in plastic bags to protect them from pathogens that may be in the air.
Facilities and infection control also get involved by creating pressurized rooms in the hospital. Historically, about half of all CMS/TJC inspections cited hospitals for room pressure and air exchanges deficiencies.
In essence, operating and procedure rooms need to have fresh air forced into them to keep pathogens that may be in the ambient air from contacting the patient. Conversely the regular patient rooms have to be negatively pressurized (air being sucked out and exhausted outside) to avoid any pathogens they may be fighting spreading to others in the building.
Labs, laundries and instrument cleaning areas need to have extra special ventilation to protect staff from both pathogens and the cleaning chemicals. While not seen by the patients or visitors, the most dangerous pathogens are in the ES department charged with sanitizing invasive and reused instruments. Various scopes and forceps that work inside the body often are contaminated with tissue debris as well as traces of pathogens unique to the disease and patient.
Historically stainless steel surgical instruments could be heated or treated with corrosive chemicals to eliminate the pathogens. With broader use of noninvasive surgery more of the tools are made of plastic and include optical fibers that are sensitive to steam, heat and chemical corrosion.
Many instrument sets need to be disassembled and even cleaned with a brush, soap and water before they can be sterilized and reassembled for reuse. This requires extremely conscientious and safety conscious employees to protect the next patient as well as themselves from the sterilant chemicals that may be poisonous, flammable and even explosive.
Making ES More Productive
Many hospitals, at the urging of the inspecting and reimbursing organizations, have developed or are developing programs for the ES staff to make them more aware of their important role in protecting patients from nosocomial infections (HAI's), improving overall treatment effectiveness and reducing costs.
Training and motivating ES personnel has typically been challenging because the low pay and low status of the staff leads to lots of turnover and employees who bring challenging work habits. The best programs involve orientation training as well as demonstrations and hands on walk throughs of the procedure to sanitize every part of the patient room or the facility as required.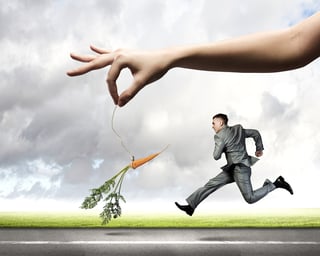 While checklists and supervision can provide the guideline and the "stick" for proper performance, the most successful programs involve teamwork and motivational promotion to provide the "carrot" for these employees. Teamwork pledges, charts and promotions focus the skill and pride of these employees to improve the infection score of the hospital. In some areas, neighboring hospitals even have friendly competitions to prove which hospital has the better ES team.
Currently video and peer reporting has been used to make sure employees understand and follow through diligently on the proscribed cleaning and disinfecting regimens. The best results from any employees are when they invest their own pride or reputation in the work they are doing.
Certified Healthcare Environmental Services Professional
To improve ES performance and to boost the stature of the ES staff, the American Hospital Association has formed a complete ES division and started the Certified Healthcare Environmental Services Professional program.
Here are the Certified Healthcare Environmental Services Professional requirements from the American Hospital Association:
"CHESP status provides both internal and external rewards. CHESPs enjoy the pride of recognition of being among the elite in a critical field of healthcare. And CHESP is a premier credential based on a sound assessment that provides distinction in an increasingly competitive marketplace.
The CHESP Program has three components:
1. Eligibility requirements that are a blend of education and healthcare-specific experience, and profile the individual who is likely to be successful on the Certification Examination
2. A 110-item multiple-choice Certification Examination that tests tasks that are performed regularly in practice and are considered important to competent practice. 100 items are scored; 10 are pretest items used to collect data
3. A renewal requirement. Certification is valid for three years at which time it must be renewed through retaking and passing the Certification Examination or documenting 45 contact hours of continuing professional education
As the industry and job responsibilities evolve, test questions need to be revised to keep the exam current and relevant. These revisions are based on a job analysis survey completed by a large number of AHE members."
Conclusion
While the enemy is daunting, the ES army has worked diligently to up their response. Along with more potent chemicals, the ES worker of today has been educated and trained as never before.
They know the chemicals they are using and have dedicated routines for cleaning every space in the hospital. They have better personal protective equipment and have been schooled in the infection fighting protocol for laundry, disposables and sterilizing equipment and surgical devices.
More quality control devices and supervision incentivize the ES staff to win the fight over HAI's.