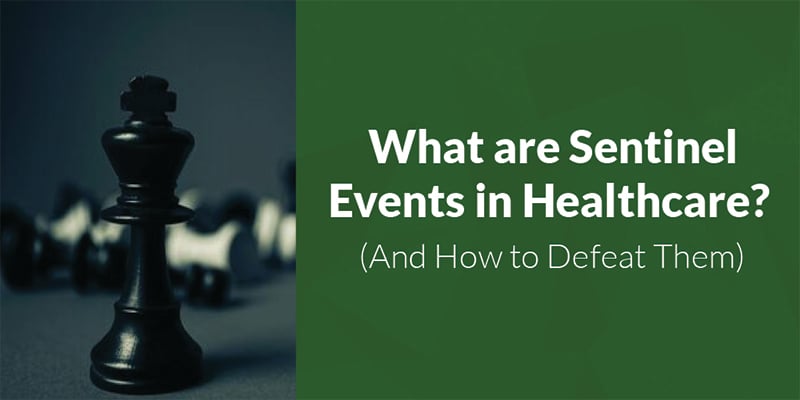 Sentinel events occur when a patient is seriously injured (permanently or temporary) or causes death, happening outside the predictable course of the patient's disease process.
The Joint Commission created the concept of sentinel events years ago to alert the hospital and others in healthcare of problems or actions that cause death or injury to patients. The events are called "sentinel" because they signal the need for immediate investigation and response.
As a leader in the control, management, and monitoring of medical gas systems, we thought we would address sentinel events with examples, statistics, and a 5-step process of what to do when and if a sentinel event occurs in your facility.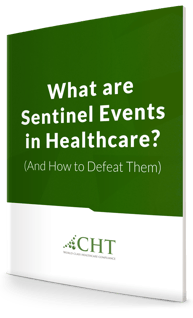 What are Examples of Sentinel Events?
From a facility's perspective, an example of a sentinel event could be a fall event or failure of some equipment that is part of the regular building function. This could include the failure of room outlets to provide oxygen or failure of inlets to provide sufficient vacuum to a patient.
According to the Joint Commission, the most common cause of sentinel events in healthcare includes unintended retention of a foreign object, fall-related events, and performing procedures on the wrong patient. Others include delay in treatment, medication error, and fire-related events.
As of Jan.1, 2021, The Joint Commission will start including a definition for fall events in its Sentinel Event Policy. This is being done to help staff in all healthcare settings to be able to understand whether a fall should be reviewed as a sentinel event.
It will state:
Fall event – Fall resulting in any of the following: any fracture; surgery, casting, or traction; required consult/management or comfort care for a neurological (for example, skull fracture, subdural or intracranial hemorrhage) or internal (for example, rib fracture, small liver laceration) injury; or a patient with coagulopathy who receives blood products as a result of the fall; death or permanent harm as a result of injuries sustained from the fall (not from physiologic events causing the fall). [source]
Most Frequently Reported Sentinel Events (1st Half of 2020 Statistics)
Through the first six months of 2020, The Joint Commission reviewed a total of 437 sentinel events. The majority fo events — 372 total or 85% — were self-reported by an accredited or certified organization.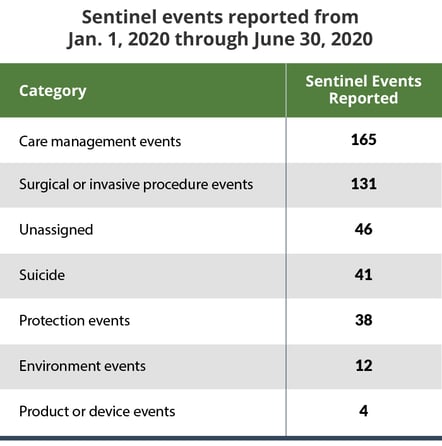 source: The Joint Commission


The most frequently reported types of sentinel events reported from Jan. 1 through Jun. 30 were from the following categories:
Care management

Surgical or invasive procedures

Unassigned events at the time of the report

Suicide

Protection events

Environment events

Product or device
Facing a Sentinel Event Head-on (What to Do When an Event Occurs)
The Joint Commission offers a five step process of what to do next.
"Take 5 With the Joint Commission: What to do when a sentinel event occurs" features pointers from Patricia McColl, RN, a patient safety specialist at The Joint Commission's office of quality monitoring and patient safety, on what to do when a sentinel event occurs at your organization.
Step 1: Secure the situation - Ensure the patient and staff's well-being is being cared for.
Step 2: Preserve anything that might be helpful in the investigation - for example, equipment, tubing, medications.
Step 3: Disclose the situation and relevant information to the patient or caregiver.
Step 4: Provide support for the patient and family, and the staff.
Step 5: Follow The Joint Commission's reporting and root-cause analysis requirements, detailed in the organization's accreditation manual. A root-cause analysis should be performed as soon as possible after the sentinel event.
The five step process helps positively impact improving care, treatment services, and prevent future events.
It focuses on emphasizing factors and underlying causes, conditions, etc., rather than individual performance.
Resource:
Take 5 Podcast: What to Do When a Sentinel Event Occurs
What Are the Requirements of TJC for Sentinel Events?
The Joint Commission has an extensive program to identify and record these sentinel events so they will be remedied and others in healthcare can be alerted to avoid similar problems.
Their regimen requires:
A formalized team response that stabilizes the patient, discloses the event to the patient and family and provides support for the family as well as staff involved in the event
Notification of hospital leadership
Immediate investigation
Patient Safety Event versus Sentinel Event
A patient safety event is an event, incident, or condition that could have resulted or did result in harm to a patient. This event can be, but is not necessarily, the result of a flawed system or process design, a system breakdown, equipment failure, or human error. Patient safety events also include adverse events, no-harm events, close calls, and hazardous conditions.
Each hospital must have a detailed plan communicated to all staff that defines patient safety, including what events are considered sentinel and what incidents are patient safety events.
The hospital CEO is responsible to TJC to provide these plans and to show that action has been taken to:
Explain why the incident happened
Who and what equipment was involved
How the accident or event will be avoided in the future
Likewise, the plan should define:
Who is responsible for fixing the equipment or procedure
When the fix will be complete
How this planned repair or procedure change will avoid future events
How the TJC and the patients can be assured the fix will be enforced
Conclusion
Organizations are reporting sentinel events to help identify contributing factors and actions healthcare facilities can take to reduce risk and improve quality.
Events are rare because facilities are doing their best to provide safe and effective care for patients, but accidents and anomalies happen. Healthcare facilities and organizations are taking an integrated approach to maintain and exceed patient safety.
This is the value of regular equipment inspections and testing to ensure the assets in your buildings are working correctly, providing the best outcomes to patients, staff, and TJC surveyors.