Given today's challenging healthcare environment and the demands placed on safety and performance, it is more crucial than ever for healthcare facilities to have control of their medical gas system, as well as the proper compliant documentation to support it.
Schematic drawings or "riser diagrams" provide a visual of the entire medical gas pipeline system, from source supply equipment to patient. A riser diagram can ensure the system is easy to understand and the key components can be quickly identified. This is especially critical during any maintenance system shutdowns.
At CHT we understand you want your medical gas systems to be compliant, pass inspections, and are safe for your facility. In this article, we discuss the importance of gas riser diagrams and the mapping of your medical gas systems.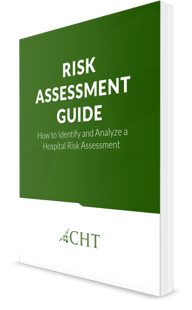 Medical Gas Riser Diagram: Use and Effect
A riser diagram is an illustration displaying the locations of medical gas lines, zone valves, and alarm panels. The most popular medical gases it will depict include Oxygen, Medical Air and Vacuum, Nitrogen, and Nitrous.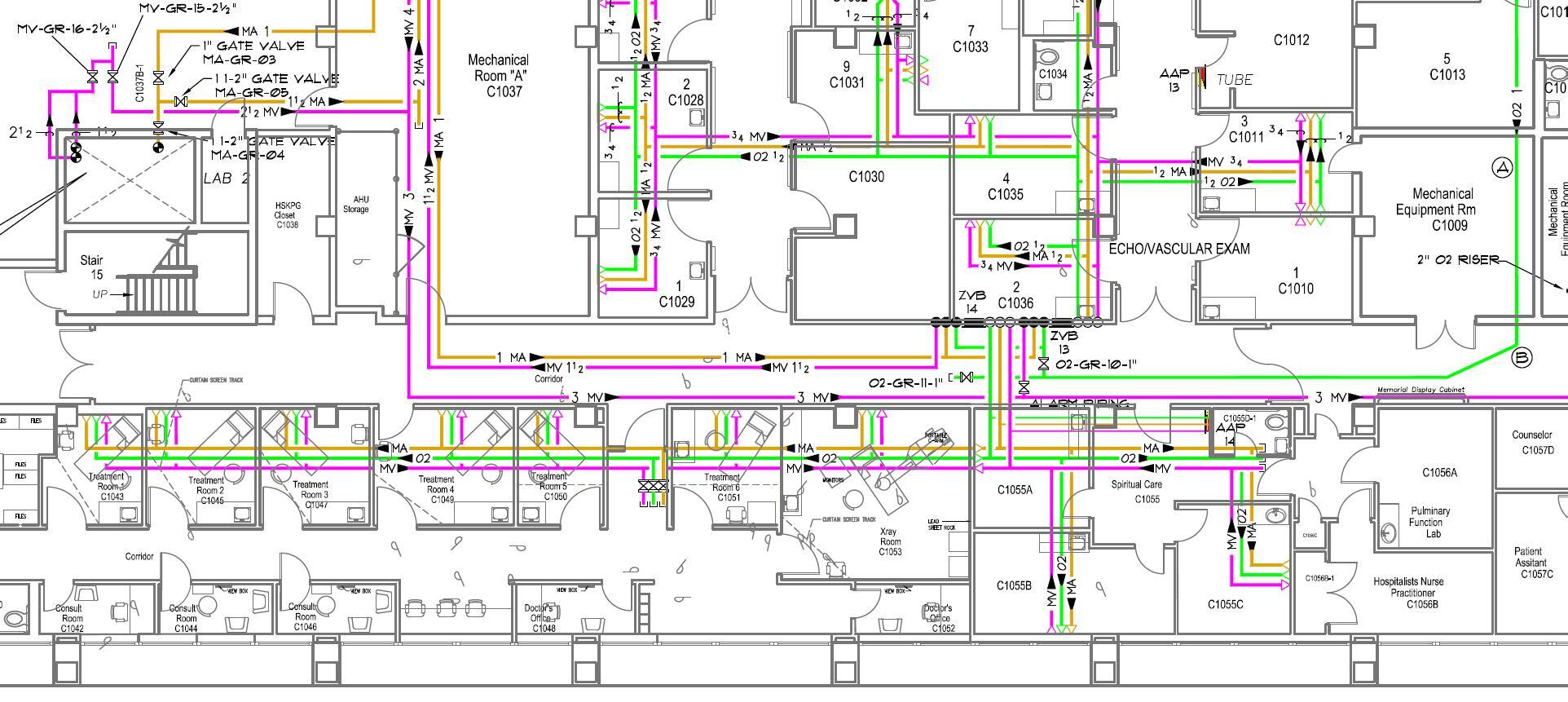 Detail drawings have unique colors for each of the Medical Gases and reference downstream/upstream areas to assist in tracing these gases on adjacent drawings. The diagram also consists of size and length of each section of the gas pipe.
Demonstrating the location of all the gases controlled by each zone valve will reassure a safe work environment.
Medical gas piping must be clearly identified using non removable stickers that are color coded according to the gas.
Medical Gas Pipeline Mapping to Enhance Compliance
Passing your annual medical gas inspection requires you to have operational, maintenance and repair information on hand for every one of your facility's technicians.
Regulatory agencies require medical gas pipeline mapping to further your compliant documentation.
The Joint Commission (TJC) cites your inventory of medical gas system components should include specific information, and your riser diagram must label the shutoff valve locations. [source]
Inventory of system components (central supply systems, alarm panels, zone valves, and outlets) should include the manufacturer, model, gas system, etc.
Inspecting, testing, and maintaining critical medical gas components includes: Master alarms, area alarms, switches, shutoffs, flexible connectors, and outlets
A mapping of the distribution & labeling of shutoffs for partial & complete emergency shutdowns. A gas pipe riser diagram displaying shutoff valve locations is imperative for emergency (and maintenance) shutdowns.
Further the accessibility of medical gas shutoff valves should remain unobstructed.
NFPA 99 section 4-2.1.2.3 (d) on zone valves also cites:
Station outlets shall not be supplied directly from a riser unless a manual shutoff valve located in the same story is installed between the riser and the outlet with a wall intervening between the valve and the outlet. This valve shall be readily operable from a standing position in the corridor on the same floor it serves.

Each lateral branch line serving patient rooms shall be provided with a shutoff valve that controls the flow of medical gas to the patient rooms. Zone valves shall be arranged that shutting off the supply of gas to one zone will not affect the supply of medical gas to the rest of the system. A pressure gauge shall be provided downstream of each zone valve. [source: Medical Gas Shutoff Valves]
How is a Medical Gas Riser Diagram Created?
1. All piping is labeled including valves
2. Gas pipe size and length of each section is noted
3. A print out - "Riser Diagram" is made for easy documentation and a visual.
Conclusion
Since there is so much scrutiny over the use of these medicinal gases, most hospitals hire third party inspectors annually to check every element of their system to confirm they are working correctly to keep patients and staff safe and meet the standards set by the organizations above.