---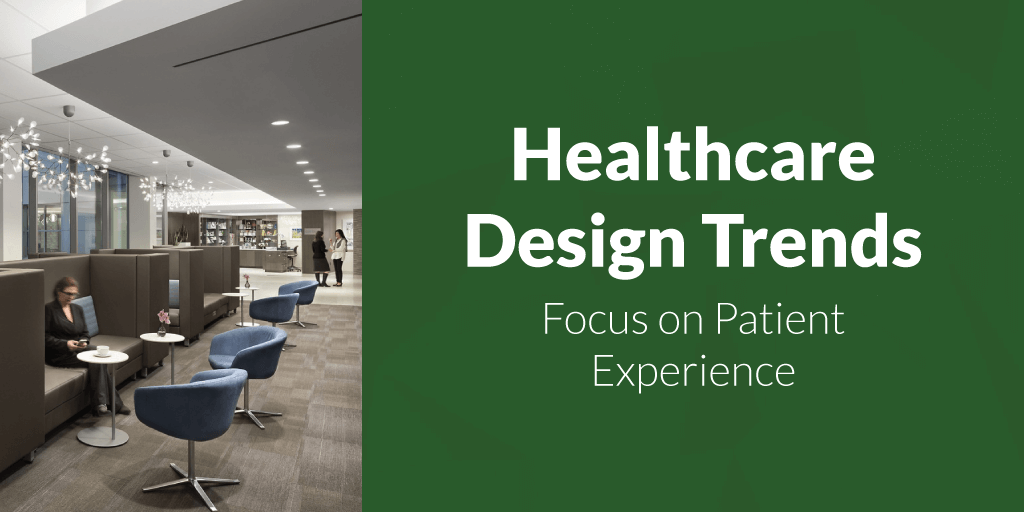 Healthcare demands will always be a growing concern. Designing an effective and caring healthcare facility is an intricate process; it needs to meet a full range of activities, from routine exams to life threatening emergencies.
As healthcare facility managers, our goal is to keep patients safe and in a welcoming environment that enhances quality and patient satisfaction. A healthcare design trend we continue to see requires creating spaces that reflect calmness and strive to ease the patient's journey.
Dr. Roger Ulrich, Ph.D. and colleagues found through their research that facility design can have a direct impact on patient and staff satisfaction, a patient's stress experience, and organization performance metrics. [source: Ulrich R, Quan X, Zimring C, et al. The role of the physical environment in the hospital of the 21st century: a once-in-a-lifetime opportunity. Report to The Center for Health Design, for the designing for the 21st century hospital project. 2004. Accessed at http://www.healthdesign.org ]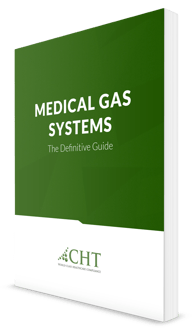 We gathered the top 11 trends that shape healthcare design and the facilities doing it right.
1. Warmer and More Inviting Interior Hospital Rooms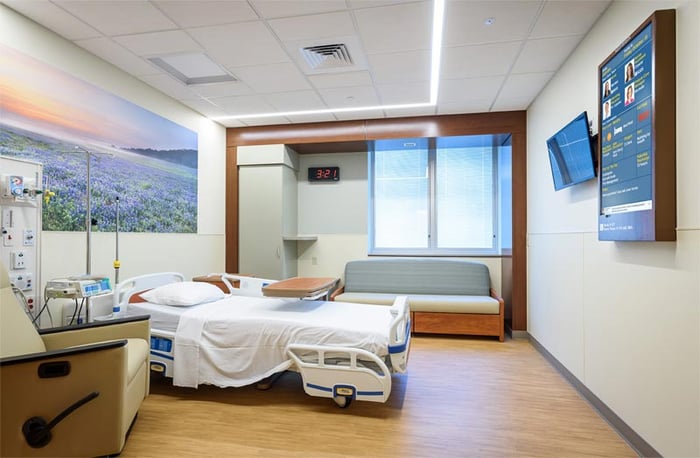 image credit: St. Luke's Hospital (CC BY-NC-ND 4.0)
Facilities are supporting patient comfort with spaces that make them feel more at home. Artwork, improved color palettes and a use of natural light are ways hospitals are beginning to transition the rooms.
More healthcare facilities are incorporating bedside furniture and head walls to favor that "home" feeling. The goal is to make patients feel comfortable and downplay the older, institutional look.
Studies have proven that the exterior and interior of a hospital can have a dramatic effect on the healing process. Gene Klow, a celebrated architect with more than 35 years of experience in the design and construction of healthcare facilities, acknowledges "The aesthetics set the mood for the way people experience the building", he said. "If an aesthetic … makes the people feel good; the patients, the staff and the visitors; [it improves] the healing and work process."
2. Customized Patient Rooms
To further reduce a patient's anxiety level, healthcare facilities are using pre-arrival patient surveys. The surveys are used to determine a patient's favorite item such as a favorite food that is allowed or reading material.
Studies have shown the extra amenities induce more confidence in the level of care patients receive.
Customized rooms increase their immediate comfort level. A patient-centered approach like this is invaluable, considering the average length of stay in hospitals in the U.S. is 6 days.
3. Maximize Space and Room Functionality with Multipurpose Furniture
There is multipurpose furniture available to help with the space constraints of a hospital room. From recliners to sleeper sofas, both are ways to improve the limited space for visitors and patients.
A sleeper sofa and table allows family members to carry on with their daily activities and still stay in the room for support. It ensures sufficient space to accommodate family members.
4. Introduce Color to Enhance a Positive Distraction
Designs with little visual clutter will help reduce stress for the patient, staff and visitors.
Jocelyn Stroupe, director of healthcare interiors at CannonDesign (Chicago), says introducing more color comes with plenty of benefits, — if done properly.
"Color can enhance the activity within a space, create a positive distraction, and promote way-finding."
5. Introduce Local Fare for Comfort
Regional influences can play a big part in healthcare design. A facility in the South West may be vastly different than one located in the North East.
Aerial Drone Video of the New Nantucket Cottage Hospital Site
Local culture shows peace and respect to their patients' lifestyles and perception.
Nantucket Cottage Hospital, "integrated elements on the interior that reference the sea, sand and sky as well as the local craftsmanship, including a woven wood wall in the lobby that references the island's deep history in basket making." [source]
In the southwest, centered around the four corners area of Utah, Colorado, Arizona, and New Mexico, the decor would reflect its history and culture.
6. Lighting Design Strategies
Jennifer Kenson, principal of healthcare interiors at Francis Cauffman (Philadelphia), recommends "indirect or integrated architectural lighting to avoid the harsh effect created by direct downlighting."
Creating the right ambiance is calming for both staff and patients.
UC Health (Cincinnati) at the University of Cincinnati, is in the process of building "an all-white tensile mesh of polyester fiber wrapping the east, west, and south exterior of the building and providing diffused, calming lighting throughout the building to address patients' light sensitivities."
The completion of this project is projected for 2019.
Steelcase, a company that produces furniture, architectural and technology products for office environments, including the healthcare industry, shared one hospital that is experimenting with colored LED lights so patients can add more visual interest to their rooms.
In addition, this family member loved the natural light, but also loved the ability to control the room lighting.
"The best thing about the hospital room where my mom was treated was the lighting," one family member said. "There was lots of natural light, but, more important, we could control the room lighting. We could even control different zones in the room, so if my mom was sleeping and I wanted to read, we had options for that."
7. Add Meaningful Decor and Art to Waiting Rooms
Murals are becoming a common design that make healthcare facilities unique. Designers are trying to incorporate fun designs to stand out.
Hospitals can be very frightening to children, and the use of cheerful artwork can improve their well-being.
St. David's Hospital in Austin, TX displays a yellow submarine, undersea mural to entertain children in the emergency rooms.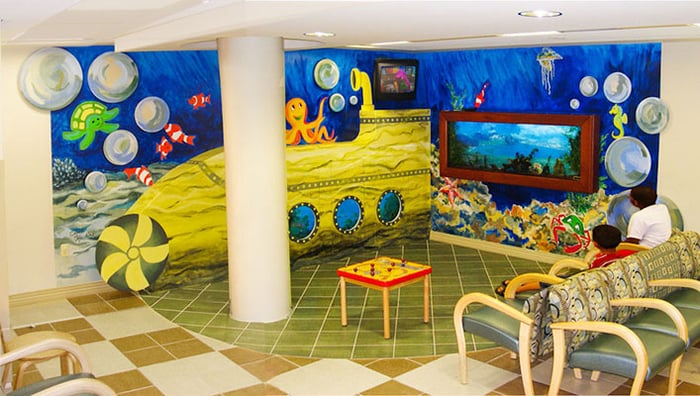 image credit: Children's Murals Carol Hawkins Studio
8. Hi-Tech Waiting Rooms are on the Rise
Charging a mobile device is always on someone's agenda. Several facilities are finding that adding furniture such as end tables with outlets and USB ports boosts the overall happiness of patients and visitors.
Some facilities are also becoming "smarter" with check-in kiosks in the waiting rooms.
According to Design Reviver ...
"

Check-in kiosks are popping up in all sorts of healthcare facilities and they are becoming a major part of design because they are one of the first things that patients are supposed to see."
9. More Private and Intimate Settings for Waiting Rooms
Facilities are embracing new ways to think about patient experience. Shifts in design are going from sterile and uninviting to more homey, comfortable designs.
These designs use more private spaces where patients and visitors can wait comfortably.
Gone are the days of rows and rows of chairs with people sporadically seated.
High-backed seating in the lobby at White Plains Hospital Cancer Center in White Plains, NY, designed by Perkins Eastman, delivers visual and acoustical privacy.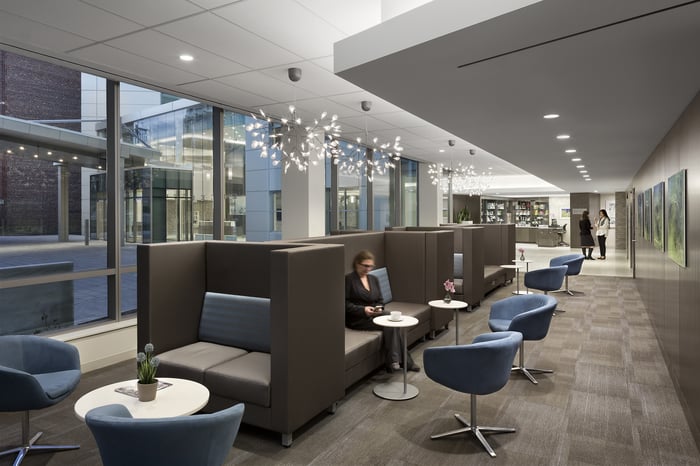 image credit: This work is licensed under a Creative Commons Attribution 4.0 International License. Perkins Eastman| White Plains Hospital
10. Integrate Nature to Put Patients at Ease
Research indicates that nature and daylight tend to put patients at ease. And, in some cases, can even make them heal quicker.
The "Water Walk" is located in the lobby of the new Spaulding Rehabilitation Hospital. The architect, Perkins + Will was "inspired by water, its movement, the play of reflections on its surface and the connections between water and healing."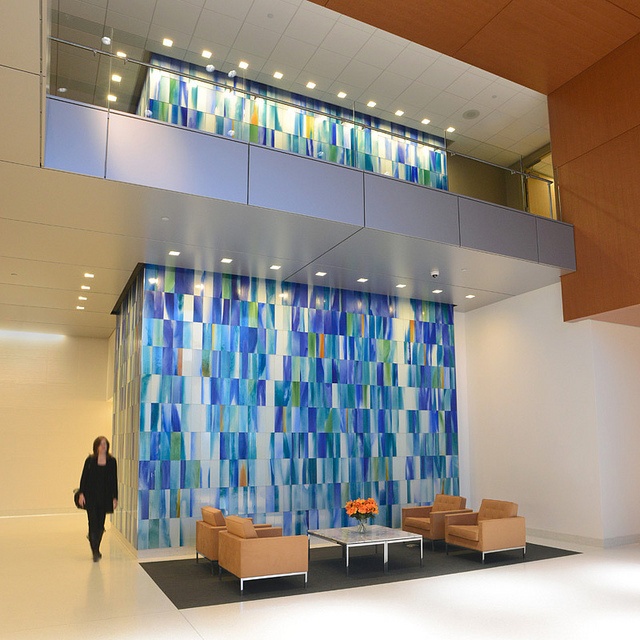 image credit: Paul Housberg, Water Walk - [CC BY-SA 2.0]
Bringing greenery indoors, Massachusetts General Hospital, Lunder Building has hanging plants cascading from the ceiling.
You can see the image here.
Neuroscience tells us: Exposure to plants makes patients less emotional and can have a calming effect. And as an added bonus,
"Certain plants give off antiviral, immune-boosting chemicals called phytoncides that promote health."
11. Welcome Patients and Visitors With Outdoor Design
Salem Health developed a site plan and building that preserved a park-like setting. The rehabilitation center was designed around the concept of a "sculpture in a park."
The center radiates around a large courtyard with a beautiful maple tree at its center. You van view more of the design project on Scott|Edwards Architecture.
Patients, visitors and staff alike, appreciate green space and gardens.
Dr. Roger Ulrich, Ph.D., an evidence-based healthcare design researcher, believes having access to nature can provide relief to those experiencing stress in medical facilities.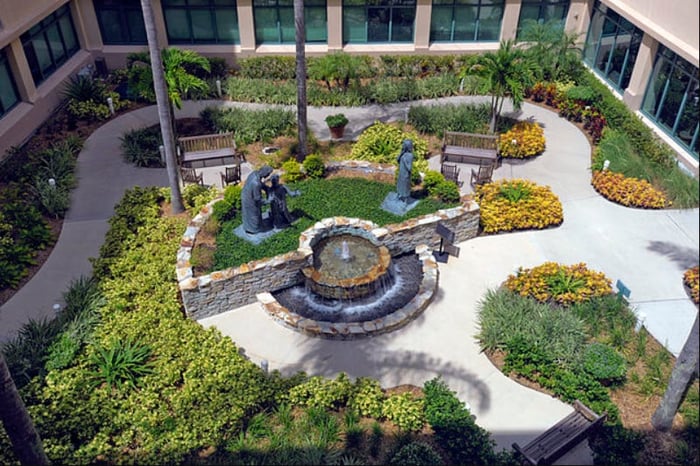 image credit: Healing Garden at Celebration Health via Wikimedia Commons [CC BY-SA 3.0]
"There is a pattern of evidence that suggests that well-designed gardens can reduce stress, lower blood pressure and relax people. Also, there is research that shows experiencing nature and looking at gardens reduces pain. Nature seems to reduce pain by blocking stress and reducing the extent to which patients focus on themselves and their discomfort."
Conclusion
The importance of visual healing continues to grow in the healthcare landscape.
According to top architect Gene Klow, "[In the past,] it was an opinion that the more scientific a healthcare facility looked, the better it was," he said. "But we learned that was exactly the opposite of what made people feel good."
Healthcare facilities today are realizing that design techniques play an influential role in the overall patient experience and healing process.
Every hospital or facility shares a common purpose: to improve sustainability and safety in healthcare facilities and develop patient satisfaction.
At CHT, we continue to provide innovative technology solutions that help facilities strive for a simple, safe and secure way to manage healthcare compliance and patient safety.