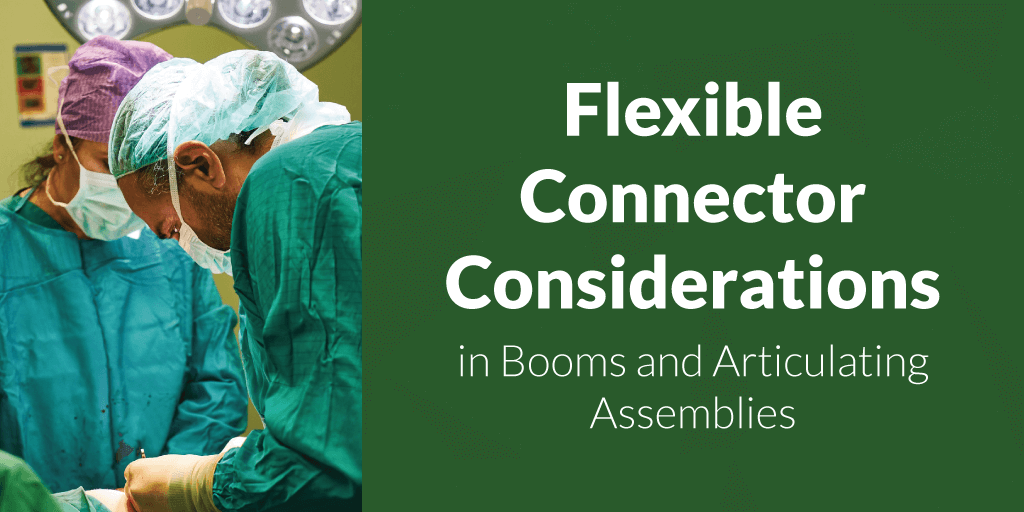 Medical gas equipment can be complex and varied in nature. And difficulty in accurately interpreting NFPA codes can add to the complexity. Flexible connectors are a good example.
They can reference the metallic connectors on central supply sources to mitigate machine vibration. Flexible connectors can also refer to non-metallic hoses that interconnect secondary and clinical equipment to wall inlets and outlets. They may be present in headwalls, manufactured assemblies, or simple drops from ceiling inlets and outlets. These types of hoses can be constructed of different materials, but all should be periodically inspected by the hospital staff to ensure they are not kinked or damaged. Of particular concern are hoses in surgical areas, as they can get bent, stepped on, and pinched by equipment.
In this article, we focus on the flexible connectors that are internal to articulating booms and pendants typically found in OR's, ICU's, ED's and procedure rooms. The booms are designed for the unique needs of these areas and help eliminate the cords and cables which were once on the floor. Thereby making it easier to maneuver around a patient and equipment. They create an orderly working environment, increase efficiency, and contribute to an overall cleaner environment.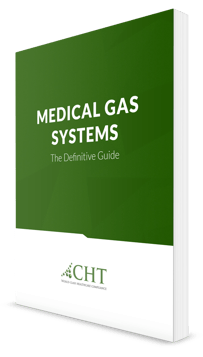 What is a Surgical Boom?
Articulating booms or pendants can be complicated. As defined by NFPA 99, they are considered manufactured assemblies. Simply put, they are factory-assembled products designed for aesthetics or convenience. Among other purposes, booms are used in healthcare facilities where there is a need for access to medical gases such as oxygen, nitrous oxide, vacuum, nitrogen, and carbon dioxide. They allow rooms to be set up in varying configurations based upon the procedures being performed.
They are customized according to the function or purpose based on the facility's needs. Since structural requirements for boom configurations will differ, when choosing equipment healthcare facilities first need to consider if it is a new build or renovation. Obviously, new construction is easier from a design perspective while renovations typically require a bit more planning.
According to Meditek, a supplier of medical equipment and products, renovations need to consider:
Does the actual structure reflect what's on the existing blueprints
Which part of the structure needs to change and how it affects the areas around it
The condition of the existing structure
Is the room actually going to be big enough, horizontally and vertically
Does the room already have the electrical and medical gas requirements
Medical Gas in Operating Rooms
There are many questions that surface when it comes to medical gas in operating rooms. Here are a few to consider:
1. What types of medical gases and air will be needed? (Medical-Surgical Vacuum, Medical Air, Oxygen, Nitrogen, Nitrous Oxide, WAGD-Waste Air Gas Disposal, Carbon Dioxide)
2. What type of medical gas connections will be utilized for each gas/air type? (Ohmeda, DISS, Geometric, Chemtron)
3. What is the maximum number of each medical gases and air needed at any time?
[source]
The assemblies are customizable including size as well as location of electrical, diagnostic and medical gas services. Once the design and planning is complete, facilities also need to ensure proper installation and testing of the booms.
The correct installation of any pneumatic brakes utilizing medical support
incorrect gas, insufficient valving, and wrong pipeline components can lead to
a failed medical gas verification and unnecessary costs and delays.
Installations that do not make considerations for future testing and hose
replacement can also end up costing facilities operational time and money
down the road. Sufficient above-ceiling access will be necessary to allow for
ongoing maintenance and repair.
Flexible Connector Inspection, Testing and Maintenance
Critical to the safe operation of flexible connectors within booms and articulating assemblies is continued testing and maintenance. Damaged hoses and leaks can result in secondary equipment damage and potential fire risk. Therefore, NFPA 99 requires all non-stationary booms and articulating assemblies be tested for leaks every 18 months, or as determined by a risk assessment. This requirement applies to hoses in both new and existing construction.
Confirmation of safe working condition and testing of all internal D.I.S.S. connectors for leakage shall also be performed. Therefore, a disassembly of the boom is typically required to visually inspect the hose condition, especially at all joints and bends within the boom. All leaks shall be repaired and any defective components shall be replaced prior to the equipment being placed into service again. The assembly shall be retested for proper operational pressure and flow as well.
It is important to note that the required 18-month interval noted above does not apply to headwalls utilizing flexible connectors. However, a periodic maintenance program of these types of manufactured assemblies are highly recommended as hoses and hose block assemblies can suffer the same types of failures as those within a boom.
Conclusion
The quality standards of medical gas equipment consist of design control, risk management, document control, and supplier management (at the bare minimum).
At CHT, we continue to provide innovative technology solutions that help facilities strive for a simple, safe and secure way to manage healthcare compliance and patient safety.